Pocket Diapers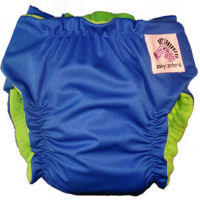 Pocket Diapers - Pocket Cloth Diapers
Pocket Diapers Feature:
Waterproof PUL outer layer
Soft microfleece inner layer
Large pocket for stuffing
Trim style fits under clothes
Medium insert included
Discover Why our Pocket Diapers are so Special!
"I wanted to say thanks soo much for our sweet "Noah's ark" diaper. Its above and beyond beautiful and I am awed at your talent. Noah looks soo cute in his diaper and the fit is amazing! He's 8 1/2 months old - such a big boy already! ...Now the hard part is getting more and slowly replacing my not really working for me stash. :)" Kayla F. Thomasville, GA

"I just wanted to let you know that I received the diapers today and I am very very happy with them. :) They are so GREAT! I love the inserts with the cute words on them, so personalized! I just wanted to let you know what a great job you did. A++++" Katie D, Mountain Home, AR
Pocket Diapers - an Easy Transition to Cloth!
Zany Zebra pocket diapers are so simple to use that they're a great choice if you're just starting out in cloth diapering. They're also perfect for babysitters, daycare, grandparents, aunts or uncles, and anyone else who is unfamiliar with cloth diapers. Simply stuff an absorbent insert in the opening at the back of the diaper and the pocket diaper is ready to go, no floppy soakers or doublers to fiddle with at changing time!
Pocket diapers are a favorite because the absorbency level can be changed to fit your child's individual needs. Like other pocket diapers, the opening of Zany Zebra pocket diapers is designed to be stuffed with inserts to fit your child's needs. Our inserts are available in contour or trifold styles, both of which contain 6 full layers of thirsty bamboo, hemp or organic cotton. Add more absorbency for your child's "super-soaker" stage - pocket diapers are able to keep up with your child's wetting habits from change to change, day after day!

Unlike other pocket diapers, our unique opening is in the back inner layer of the diaper instead of the back seam. The entire pocket opening is lined with microfleece or suedecloth so the only thing that touches baby is softness. Our pocket opening is elasticized to allow for a large opening without extra bulk in the back of the diaper. Pocket diapers are a great cloth diapering choice because the insert comes out of the diaper for through cleaning and quick drying - most of the time the inserts come out by themselves during laundering so you don't even have to touch them when they're dirty!
Because our pocket diapers are made with a waterproof outer layer, they do not need a separate diaper cover. And don't worry about what what your child will wear over our pocket diapers - our trim bikini cut fits great under clothing, even blue jeans!
Our pocket diapers come complete with a medium-wetter insert which is perfect for everyday use. Each insert is individually created to complement the pocket diaper, with exclusive details quilted in as a special surprise to brighten your day. You never know what you'll find on one of our pocket diaper inserts - it may be hearts, stars, or another fun design; words like "Love," "Shine," a different affirmative statement, or whatever else I am inspired to create. I enjoy adding these extra details to each insert I make, and hope they make each pocket diaper a little more special for you!
Enjoy These Other Cloth Diaper Items with your Pocket Diapers:

Got a super soaker? Add diaper doublers to your pocket diapers.
Our cloth baby wipes have the softness and durability you've been looking for, in bright colors and fun prints.
Your one of a kind child deserves a one of a kind applique diaper, available only from Zany Zebra!
Looking for More Information about Pocket Diapers?
Check out the Pocket Diapers section of Cloth Diapers 101 for information about pocket diapers in general.
Browse ourDiaper Doublers page for information about Zany Zebra inserts.
Feel free to contact us with any questions about pocket diapers or cloth diapering in general. We're happy to help you learn about pocket diapers, and other types of cloth diapers!