Cloth Wipes
Cloth Wipes - Cloth Baby Wipes
Cloth Wipes Feature:
Two thick layers clean thoroughly
Bright colors and fun patterns
Luxurious fabrics pamper your child
Serged edges for trim sturdiness
Large size provides full coverage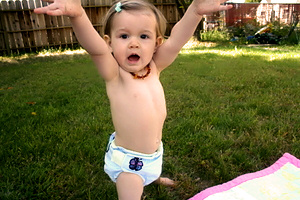 Hooray for cloth wipes!
"I also really appreciate the wipes you threw in, they are super cute, and so well made." Katie D, Mountain Home, AR"
Cloth Wipes - Perfect Partners to Cloth Diapers
You'll love using cloth wipes for all the reasons you love your cloth diapers! They're soft and comfy, will save you money, and are adorable - making changing time more fun for you and your little one! Read on for more reasons to use cloth wipes with your cloth diapers!
Cloth Wipes are Comfortable
Zany Zebra cloth wipes are the ultimate in comfort for your child! Our cloth wipes pamper your child's tender skin with two layers of luxurious fabric serged together for trimness and strength. Disposable wipes can be rough, and who knows what their "cloth like" substance is made of? Our cloth wipes are made of soft flannels, cozy sherpas and plush velours which are much more comfortable on your child's tender skin!
Cloth Wipes are Essential
Not only are cloth wipes perfect for diaper changes, they're also perfect for cleaning up the enevitable messes that children tend to attract. Sticky fingers and messy faces? Runny nose? Spilled drink? Mushed cracker? Nothing is too messy for our cloth wipes! Their large 8 x 8" size is perfect for any size mess. Keep a few in the diaper bag with a small bottle of cloth wipe solution. and you'll be ready fot anything!
Cloth Wipes are Simple
Cloth wipes are easier to use with cloth diapers than disposable wipes are. Simply wet your cloth wipe with plain water or cloth wipe solution for a comfortable, effective way to clean up. After using your cloth wipes you can just toss them into the diaper pail with the dirty diaper; no need to sort out the messy disposable wipes to throw in the garbage! Launder your cloth wipes with your cloth diapers and keep them next to the diapers for easy diaper changes. If you prefer warm wipes there are several ways to warm your cloth wipes. The easiest method is to wet your cloth wipes in hot tap water before use. Or you can fill a Thermos Pump Pot or a disposable wipes box in a wipes warmer with water or wipes solution. Keep the Pump Pot or wipes container near your changing area for convenience. Our cloth wipes will fit in your recycled disposable wipe container, or place them in a decorated box or pretty basket for a visual treat.
Cloth Wipes are Economical
Not only are our cloth wipes comfortable and easy to use, you'll save money by switching from disposable to cloth! When you throw disposable wipes away you're throwing your money away. We were shocked to learn that parents may easily spend up to $100.00 a month on disposable wipes! Many disposable wipes are so thin that messes leak through unless you use two or three at a time - which means more money being thrown in the garbage. Our cloth wipes are a sensible alternative to disposable wipes because cloth wipes can be washed and reused to save money. They're thick enough to handle the messiest diaper changes so you use less wipes at each change. All of our cloth wipe fabrics are top quality so you know your cloth wipes will stay plush and soft wash after wash.
Cloth Wipes are Natural
Cloth wipes are better for your child's delicate skin than disposable wipes! Have you ever used a disposable wipe when you had a cut on your finger? We have, and it hurts! We can't imagine how that feels on a child's sensitive bottom. Disposable wipes contain chemical ingredients like Sodium Acrylates/Vinyl Isodecanoate Crosspolymer, Polysorbate 20, Phenylcarbinol, Disodium EDTA, Sodium Hydroxy-Methylglycinate Iodopropynyl Butylcarbamate, and artificial Fragrance. And who knows what the "cloth-like" fibers of the wipes are made of? We think it's ironic that disposable wipes companies advertise their wipes as being "like cloth" and have incorporated cotton into disposable wipes - they know what's better for children too! Why use a disposable wipe that may contain some cotton when you can use a cloth wipe made of natural cotton? Don't expose your child to unknown chemicals, make the switch to cloth wipes today - for your child's sake!
Other cloth diapering items to enjoy with your cloth wipes:
New to Cloth Wipes and Cloth Diapers?
Check out Cloth Diapers 101 to learn more about the wonderful world of cloth diapers!
Try making your own with one of these free cloth diaper patterns.
Feel free to contact us with any questions about cloth wipes, or cloth diapering in general. We're always happy to help new (and experienced) cloth diapering parents!