Cloth Diapering
Cloth Diapering - Cloth Diapering Products and Resources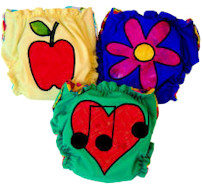 Zany Zebra Cloth Diapering:
Beautiful cloth diapering products
Valuable cloth diapering articles
Superior customer service
Serving the cloth diapering community since 2005
Proudly made in the USA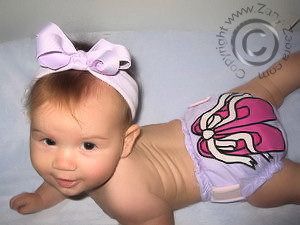 "These...are...AMAZING! I can't believe the way you make these applique ideas of mine come to fruition. If I wasn't already sitting on the floor w/ DD diving into them, they would've knocked me on my butt. They're just so beautiful. These will be SO loved and well-used (and not parted w/ until they're pried from my cold, dead hands after all my babies and grandbabies are done w/ them :) This was the BEST day!" Erika V, Hayward, CA
Cloth Diapering has Something for Everyone
We love everything about cloth diapering and want to share our love with you! Sit back, grab your favorite drink and let us show you how wonderful cloth diapering can be.
Extraordinary Cloth Diapering Products
Our one of a kind cloth diapering products unite style and function. Vibrant colors, cozy fabrics and unique embellishments make changing time more enjoyable for you and your little one. We specialize in applique designs individually created so no two are alike.
Applique Diapers

Zany Zebra presents a unique cloth diapering option: applique diapers. Our appliques are individually handcrafted so no two are alike. If you're looking for something that's truly unique, try an applique diaper by Zany Zebra!



All-in-One Diapers

Zany Zebra all in one diapers are one-step cloth diapering. Our all in one diapers have a waterproof outer layer and are trim enough to fit under your child's outfits. All in one diapers are an easy transition from disposable to cloth diapering, and perfect for daycare and babysitters.



Fitted Diapers

Zany Zebra fitted diapers are a versatile part of cloth diapering. Our fitteds come in quick dry or pocket style and can be used under a separate, reusable diaper cover as well as under wool or fleece shorts and pants. Add some flexibility to your cloth diapering routine with fitted diapers.



Night Diapers

Think cloth diapering has to stop at bedtime? Think again! Our Sleepytime Zzzs™ night diapers are the solution to your nighttime diapering woes! These cloth diapers fit under your favorite diaper covers and are extra absorbent so you can continue cloth diapering around the clock.



Pocket Diapers

Customize your cloth diapering system with pocket diapers! These diapers have a waterproof outer layer and an opening to stuff with absorbent inserts to meet your baby's individual needs. Pocket diapers are great way to introduce babysitters and daycare to cloth diapering.



Cloth Baby Wipes

A cloth diapering system isn't complete without cloth baby wipes! Not only are cloth wipes more comfortable and healthier for your child, they save you money and are easy to use. Cloth wipes are also great for sticky hands or faces, and gentle on runny noses.


Unsure about Cloth Diapering?

It's OK if you're still not sure that cloth diapering is right for your family. Many new parents don't have any experience with cloth diapering and become overwhelmed with information. Take your time and do the research; we're sure that once you do you'll be convinced that cloth is the way to go! We've used both cloth and disposable diapers on our children and are more than happy to share our experiences with you. Feel free to contact us with any questions any time!
New to Cloth Diapering?

Welcome! We were new to cloth diapering once too, and know how overwhelming it can be. Don't despair, we'll help you discover how easy and fun cloth diapering can be. Feel free to contact us, we love to spread the cloth diapering love!
Interested in "Do it Yourself" Cloth Diapering?

If you're independent and like to do things yourself you'll enjoy making your own cloth diapering items! You'll be proud to show off your creations, and will save money too - what could be better than that? For you we've collected a ton of great cloth diapering resources to help you feed your independent streak. Have a ball creating cloth diapers, wipes, doublers, and everything else your cloth diapered little one will need!
Shop for Our Cloth Diapering Products

Your cloth diapering stash brings you joy. When a special item speaks to you, CLICK it's yours! We know the the thrill of adding to a beloved cloth diapering stash - we enjoy cloth diaper shopping too and have stalked our fair share of postal carriers. That's why we bring you our unique cloth diapering products; we love making you happy!
Treat yourself to some fluff today. Check out our Etsy shop for instock cloth diapering products. We have the unique cloth diapering items you're looking for!
Non-diapering items can thrill too! Browse our Resources for links to tons of great websites where you're sure to discover something wonderful.
Want to Learn More About Cloth Diapering?

OK time to 'fess up. Are you one of those cloth diapering mamas who's totally obsessed with cloth diapers? Do you you eat, breathe, walk, talk, and dream about cloth diapers? Don't be shy, we know how you feel - we've been there too! Not only that, we're accomplished enablers! We'll feed your hunger for cloth diapers and cloth diapering information, and won't stop until you're satisfied.
Learn about cloth diapering by browsing the articles in our Information links. We're constantly adding to these resources so stop by often and see what's new.
Discover in-depth information about our exclusive cloth diapering items by checking out the Products links in our menu. Everything you want to know about Zany Zebra products - and more.
If you just want to chat about cloth diapering, feel free to contact us anytime - we love to talk cloth!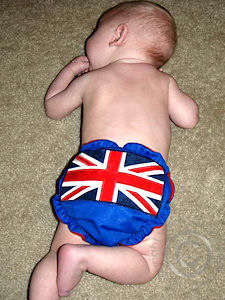 "My little Britt wearing his Union Jack diaper." Anna M, Fortney, TX