Cloth Diapering
Cloth Diapering - Cloth Diapering Resources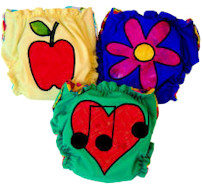 Zany Zebra Cloth Diapers
Once upon a time there was a mama who loved her babies, cloth diapers, and sewing (yes, it's me). I decided to combine those three loves, and Zany Zebra Designs was born. There's much more to the story, but that's the important part for now.
Fast forward 10+ years. My babies are teens, and although my love for cloth diapers and sewing is still there, I don't have enough hours in the day to do everything. So, with a heavy heart I decided to stop sewing cloth diapers.
But rather than close Zany Zebra entirely, I'm going to keep the informational pages available. My new goal is to help new cloth diapering mamas learn about cloth diapers so they could learn to love them as much as I do.
I hope you find the information you're looking for, and I also hope you enjoy all the ZZD cloth diaper photos. Most of these litte ones are teenagers now too!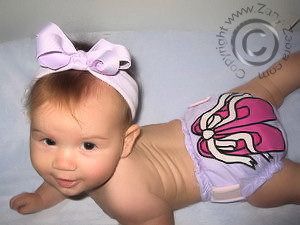 "These...are...AMAZING! I can't believe the way you make these applique ideas of mine come to fruition. If I wasn't already sitting on the floor w/ DD diving into them, they would've knocked me on my butt. They're just so beautiful. These will be SO loved and well-used (and not parted w/ until they're pried from my cold, dead hands after all my babies and grandbabies are done w/ them :) This was the BEST day!" Erika V, Hayward, CA
Cloth Diapering has Something for Everyone

We love everything about cloth diapering and want to share our love with you! Sit back, grab your favorite drink and let us show you how wonderful cloth diapering can be.
Unsure about Cloth Diapering?

It's OK if you're still not sure that cloth diapering is right for your family. Many new parents don't have any experience with cloth diapering and become overwhelmed with information. Take your time and do the research; we're sure that once you do you'll be convinced that cloth is the way to go! We've used both cloth and disposable diapers on our children and are more than happy to share our experiences with you. Feel free to contact us with any questions any time!
New to Cloth Diapering?

Welcome! We were new to cloth diapering once too, and know how overwhelming it can be. Don't despair, we'll help you discover how easy and fun cloth diapering can be. Feel free to contact us, we love to spread the cloth diapering love!
Interested in "Do it Yourself" Cloth Diapering?

If you're independent and like to do things yourself you'll enjoy making your own cloth diapering items! You'll be proud to show off your creations, and will save money too - what could be better than that? For you we've collected a ton of great cloth diapering resources to help you feed your independent streak. Have a ball creating cloth diapers, wipes, doublers, and everything else your cloth diapered little one will need!
Want to Learn More About Cloth Diapering?

OK time to 'fess up. Are you one of those cloth diapering mamas who's totally obsessed with cloth diapers? Do you you eat, breathe, walk, talk, and dream about cloth diapers? Don't be shy, we know how you feel - we've been there too! Not only that, we're accomplished enablers! We'll feed your hunger for cloth diapers and cloth diapering information, and won't stop until you're satisfied.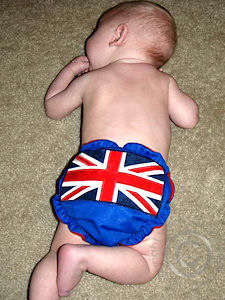 "My little Britt wearing his Union Jack diaper." Anna M, Fortney, TX