Applique Diapers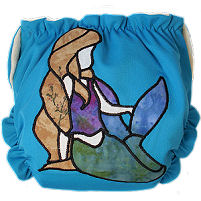 Applique Cloth Diapers - Applique Diapers
Applique Diapers Feature:
Waterproof outer with cushy inner
Quality quilting fabric appliques
Polyester thread avoids wicking
Satin stitching prevents fraying
Extra waterproof layer stops leaks

"OMG Amy I just received the mermaid diaper - I loooooove it!!! Your diapers just seem to fit my daughter perfectly, better than Fussybutts! Anyhow it is in the wash now but I can send you pics of DD wearing it if you would like :-)

You know my 2yo son who is almost potty trained rummages through the clean diapers to find the ZZDs? He fits in them too, he particularly likes the one with the fish (it was my first ZZD!) I need to send you pics of him wearing it too, he goes in front of the mirror and tries to see it on his bum and twists and turns. Thank you again so so much!" Laura L, Newark, CA



One of a Kind Applique Diapers for your One of a Kind Child!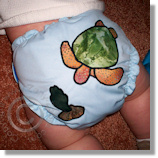 You know that special way your child tilts her head as she studies the world around her, that smile that's unlike any other, and the way she has of wrapping herself around your heart with no effort at all. A child as incredibly special as yours needs a diaper as special as our applique diapers. With bright colors and amazing applique designs, the diapers are almost as charming as the child wearing them. Be the envy of playgroup when you show off your little one's new applique diaper alone under a T-shirt. The other parents will ooh and aah, then ask where they can get a diaper just like it for their children. That's when you'll say "Sorry, but it's one of a kind." Of course you'll tell them, but since each applique diaper is individually handcrafted you know there will never be another diaper exactly like yours; just like there will never be another child exactly like yours.
As time goes on you start to collect specific applique designs that celebrate your family's individuality. If you can dream it we can design an applique of it! What makes your family unique? Why not get applique diapers to illustrate your family's individuality? Dad will get involved in the diapering action with applique diapers that express his special interests. Sports, reading, cars, computers, music or something else, he'll enjoy changing time much more when he can choose from "his" collection of applique diapers. Grandma and Grandpa will be happy to use cloth while babysitting because of the applique diapers that you keep just for their visits. Your older children will be even more excited about a new arrival when they can have a hand in creating a special gift for the new baby! Ask them to draw a picture for the new baby, send us the drawing, and we'll create an applique diaper based on your child's drawing. You'll never tire of hearing your older child proudly say "I made that for my baby; that's MY picture on the diaper!"

If you're a work at home parent an applique diaper can be great advertising, not to mention just plain fun! Send us your logo and we'll design a special logo applique diaper for your child. Can you think of cuter advertising than having a your logo on your child's little bum?
Fast forward a bit, and there's another little one in your family. You open the box of diapering supplies and take out your collection of applique diapers one by one. Suddenly the memories come rushing back: here's the first applique diaper you ever bought, the holiday ones you collected - Christmas, Halloween, Fourth of July, Valentine's Day, St. Patrick's Day, Thanksgiving... the First Birthday one you bought for that special day, the sports themed one that surprised Daddy, the duck, ball, truck, and animal ones you custom ordered when your little one was obsessed with each theme. As you carefully lay each diaper side by side, you look over at your new little one and wonder what new memories you'll have with this child, and your applique diapers.
Other cloth diapering items to enjoy with your applique diapers:
Looking for more information about applique or traditional cloth diapers?
Check out Cloth Diapers 101 for information about cloth diapers in general.
Why Cloth? lists the benefits of cloth diapers and compares cloth vs disposable diapers.
Feel free to contact us with any questions about our applique diapers, or cloth diapering in general. We're happy to help you learn about our unique applique diapers and other cloth diapers!
Back to Top of Applique Diapers