Diaper Inserts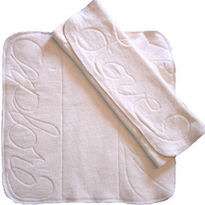 Diaper Inserts - Cloth Diaper Inserts
Our diaper inserts feature:
Unique quilted designs on each insert
Exclusive no-fold and traditional trifold styles
Two sizes to fit all of your diapers
Absorbent fabrics provide trim efficiency
Diaper Inserts - Not Just For Pocket Diapers
Did you know that you can use diaper inserts even if you don't have pocket diapers? Your little one is an individual with individual absorbency needs, and you need the right amount of absorbency for your child no matter what system you use. Obviously diaper inserts are vital to pocket diapers, but they're also handy things for all cloth diapering families to have on hand. Fold a diaper insert into a cover for a quick change, add one to your regular diaper for ultimate absorbency, lay one under a napping child for added surface protection, or toss one over your shoulder in case of juicy burps.
Diaper Inserts Customize Absorbency
Your little one may be a light wetter, or a super soaker like mine, either way diaper inserts provide the individualized absorbancy that you need for your child and for how often you change diapers. If your child is damp to moderately wet at diaper changes or if you change frequently, a medium absorbency diaper insert is perfect for your needs. If your child's diaper is consistently soaked, leaking, or you go longer between changes, you need a super absorbancy diaper insert. You can further customize your pocket diaper system by using lighter absorbancies during the day and heavier absorbancies at night, for naps, long car rides, extended outings, or when you can't change often. You can also use additional diaper inserts as heavy-duty doublers if your child is going through an extremely heavy wetting stage.
Diaper Inserts are Easy to Use
Most diaper inserts are trifold style. Trifold diaper inserts simply need to be folded into thirds then stuffed into the opening of your pocket diapers. Our trifold diaper inserts are serged around the outside then stitched into thirds to make folding easier. Trifold diaper inserts open up in the wash for thorough cleaning and quick drying.

Our original no-fold diaper insert is super easy to use! This exclusive style doesn't need to be folded before stuffing, yet allows for thorough washing and quick drying. No-fold inserts are similar to quick-dry soakers, with two serged rectangles that are stitched together at the short ends. To use no-fold inserts, simply stuff one into the opening of your pocket diaper, no folding required!
Our Diaper Inserts are Extraordinary
All of our diaper inserts have extra details stitched onto them as a special gift from my heart to yours. Trifold inserts have stitching on the two outer sections while no-fold inserts have stitching on the top and bottom layers. One section of the insert will have hearts, stars, or other fun details stitched onto it, while the other side will have positive thoughts like Love, Grow, Play, Soar, and other affirmative statements. I enjoy adding these extra features to each insert that I create, and hope that they bring a little fun to your cloth diapering evey day!
How Many Diaper Inserts do I Need?
The number of inserts you need will depend on how you intend to use them and how heavy of a wetter your child is. You will obviously need at least one diaper insert for each pocket diaper that you own, and may want to invest in a few extra inserts for overnight use or extended outings. To add absorbancy without the bulk of a second insert you might want to use a doubler instead of an extra insert. Trifold diaper inserts can be handy for laundry day when all your pockets are being washed, just fold one along the stitching lines, lay it inside a cover and you're good to go. Since I have other family members who do laundry I like to have a few extra inserts around in case one gets lost between drying and folding.
Which Diaper Insert do I Choose?
First you need to decide if your child needs medium or super diaper inserts, based on the hints above. Keep in mind that less bulk makes for a happier and lighter child, while more absorbency keeps your little one dry longer. When ready to use, medium diaper inserts contain a total of six layers of hemp or nine layers of organic cotton, the perfect amount of trim absorbency for most children. Super diaper inserts will contain a total of nine layers of hemp, or twelve layers of organic cotton, perfect for most children overnight or heavy wetters during the day.
Secondly you need to choose which fabric you want your diaper insert to be made of. Hemp diaper inserts are made of a natural cotton and hemp blend which provides the ultimate in natural fiber absorbency - 8 times the absorbency of regular cotton! Hemp inserts are more dense and firm feeling than organic cotton, are a little more absorbent, and are more trim. Organic cotton inserts are made of 100% organically grown cotton, and minimize the amount of harsh chemicals near your baby. Organic Cotton diaper inserts are less dense than hemp, slightly less absorbent, a bit thicker, and nicely soft and squishy. Both hemp and organic inserts are available in medium and super absorbencies and two sizes to fit our pocket diapers as well as the pocket diapers you have at home.
Finally, you need to choose what style of diaper insert you need, based on the information above. Our diaper inserts are specially designed to provide maximum absorbency, thorough washing, quick drying time and a great fit for a wide variety of uses. Trifold diaper inserts measure about 12"x12" for small/medium size and 12"x14" for large/toddler size. Trifold style is available in both medium and super absorbencies. No-fold diaper inserts measure about 4"x12" for small/medium size and 4"x14" for large/toddler size. No-fold diaper inserts are available in medium absorbency, but not super absorbency because the added layers prevent thorough washing and quick drying.
Diaper Inserts - Major Versatility, Minimal Price
Diaper inserts are a valuable part of your cloth diapering system, no matter what kind of diapers you use. We think they're so useful that every cloth diapering family should have a few around to fill in as nap pads, burp cloths and emergency diapers. Diaper inserts are major versatility at a reasonable price, what more can you ask for?
If you like our diaper inserts you'll love these other products:
New to Diaper Inserts and Cloth Diapers?
Check out Cloth Diapers 101 to learn more about the wonderful world of cloth diapers!
And feel free to contact us if you have any questions, we're always happy to help new (and experienced) cloth diapering parents!
Back to top of Diaper Inserts