Business Policies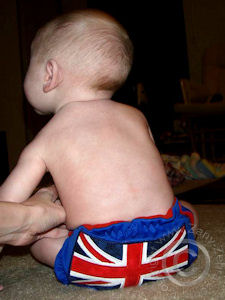 Business Policies of Zany Zebra Designs, LLC
The business policies of Zany Zebra Designs, LLC reflect our commitment to providing the highest quality products and excellent customer service.
Copyright Notice
This website and its content is copyright of Zany Zebra Designs, LLC ©2005-2016. All rights are reserved. Any redistribution or reproduction of part or all of the contents in any form is prohibited. You may not, except with our express written permission, distribute or commercially exploit the content. Nor may you transmit it or store it in any other website or other form of electronic retrieval system.
Custom Orders
Zany Zebra custom diaper slots are available in our Etsy Shop. Please convo me to request a custom order if no custom slots are in stock. All sales are final on personalized items, items with a customized fit, and items that have been customized to the point that they could not be sold as instock.
Donations and Charity Giving
Zany Zebra Designs, LLC has been a supporter of local & national charitable organizations since our establishment in 2005. We have always attempted to donate our time, services & expertise to help a worthy cause. Sadly, we cannot contribute to all of the thoughtful requests that we receive. If you have a request for donation, please contact us. Be sure to include your name, contact telephone number, the description of the event, the nature of your request and any other pertinent details that will assist us in making an informed decision. We appreciate you thinking of us and will do our best to help!
International Customs Fees
International customers should be aware of the possibility of customs fees before placing an order. The customer is responsible to pay any applicable customs fees. We cannot mark "Gift" for items that are not gifts; doing so is unethical and illegal. Please do not put yourself in the awkward position of asking us to provide false information on a customs form.
Payments
All orders must be paid for at the time the order is placed. Items will be restocked if payment is not received before midnight on the day the order is placed. Custom orders must be paid and payment cleared before custom work can be started.
Privacy Notice
Our privacy policy explains how we help you safeguard your personal information.
Refunds
Products in NEW condition may be exchanged by the original owner within 30 days of purchase for store credit or PayPal refund, minus shipping and a 10% restocking fee. New condition is the condition in which you received the product: clean, unwashed, unworn, free from odors and pet hairs, etc. Refunds will be given only after the item is in our possession and is deemed to be in acceptable condition. Washed, dirty, used, "second" quality and personalized items are non-refundable. Items in unacceptable condition will not be refunded; they will be held until the customer pays to have the item returned to them.
Returns
We will gladly accept returns by the original owner within 30 days of purchase. Products must be in NEW condition and returned complete with the original, undamaged packaging and any free items or samples. Notice is required before any item will be accepted for refund; please contact us for instructions prior to returning any item. Washed, used, "second" quality and personalized items are not returnable. Return shipping charges are the customer's responsibility unless we made a mistake with your order.
Returns - Abandoned Items
If an item needs to be returned to you due to unacceptable condition and the shipping invoice is not paid within 14 days, the item is considered abandoned and will be donated to charity without further notice.
Returns - Product Condition
Please be considerate about the condition of your items before returning them to us for refund or repair. Do not ask us to handle anything that you wouldn't want to deal with yourself, such as stained, smelly, soiled or damp items. If an item arrives in an unpleasant condition we will invoice you for shipping back to you.
Right of Refusal
Zany Zebra Designs reserves the right to accept or refuse any order for any reason without explanation.
Shipping
We ship to the address listed in PayPal. Instock products will be shipped within 3-4 business days of payment being received and cleared. Custom and semi-custom orders will be shipped within 3-4 weeks of payment being received and cleared. We ship via USPS First Class with delivery confirmation to domestic addresses. International orders will be shipped via the most economical route. Shipping costs to domestic addresses are a flat charge; International orders will be charged actual shipping charges. Customers who prefer Priority Mail or another shipping method instead of USPS First Class must let us know and pay any additional charge before their order is shipped.
Shipping - Delivery Confirmation
All packages are shipped with a delivery confirmation or a tracking number. If the package is scanned as "delivered" it is considered to be in your hands and is not replaceable. Please make sure that your delivery address has a secure location where the carrier can leave your package.
Shipping - Insurance
Insurance is strongly recommended and must be purchased at additional cost. We are not responsible for items lost or damaged once they leave our hands unless the shipment was insured. Zany Zebra Designs guarantees all insured packages.
Shipping - Return to Sender
If a package is returned to us due to incorrect address, or any other reason that is not our mistake, the actual shipping amount will be charged to reship the package.
Trades
While we enjoy trying products from other WAHMs, our needs are minimal and we are not able to arrange a trade with everyone who offers. Please do not be offended if we are not able to take your offer to trade. Refusals are due to the overabundance of items stuffed in our home, not a rejection of your product.
Warranty
Zany Zebra Designs products are of the highest quality and are guaranteed to the original owner as long as care instructions have been followed. We are not responsible for damage to an item due to improper care, misuse, normal fading or "wear and tear" of product materials. Dyeing, embellishing, customer-made repairs or any other alteration voids the warranty. Please see Returns and Refunds for information about returning products.
Warranty - Defective Products
Defects of materials or workmanship will be repaired for up to three months from the original purchase date. Please contact us prior to returning an item for repair.
Warranty - Snaps
Snaps are guaranteed for 30 days. Any snap that is found to be defective will be replaced (with a non-hidden snap) for free. If the diaper is returned within 30 days of the date of purchase shipping charges will be refunded. After 30 days shipping charges to and from Zany Zebra is the customer's responsibility.